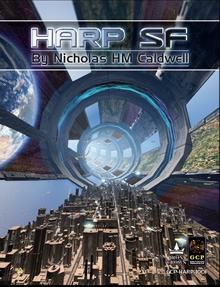 Today we would like to say a huge thank you to everyone who has bought, played and promoted HARP SF since it's release. This is because today we're overjoyed to announce that HARP SF has become an electrum pick on RPGNow!

For those of you not aware of RPGNow and it's ranking system, becoming an electrum pick is a big deal. Metal icons are a rough indication of a products popularity with each level being progressively harder to reach. Over 83% of products on RPGNow never achieve a metal icon. Only 9.45% ever become a 'copper pick' which is the lowest level of metal with 5.59% achieving Silver. Electrum (which is the third highest metal) is an accolade reserved for the privileged few with only 1.18% of products on RPGNow reaching the level that HARP SF has now reached.

In case you haven't yet bought HARP SF, here's a brief look at what makes the game so great:

HARP SF

– the roleplaying game of the future has arrived

Whether your game focuses on events on a single inhabited world in the near future or is a galaxy-spanning epic set millennia hence in the far future, HARP SF is the right choice for you.

HARP SF retains all the simplicity and flexibility of the original HARP Fantasy game but expands its reach to a whole new universe of infinite possibilities.

HARP SF includes:

Character creation rules for human and alien characters
11 professions
6 alien species
9 cultures
80+ skills
100+ talents
Futuristic equipment and technology
Rules for sf adventuring on alien worlds and outer space
Rules for personal combat
23 critical tables
Psionics
Gamemastering guidance
An introduction to the new Tintamar setting

If you haven't yet got a copy you can buy it in pdf, softcover and hardcover at RPGNow HERE.

If you have already got your copy. A huge thanks from all the team here at ICE. We hope you have enjoyed it and continue to enjoy it in the future.