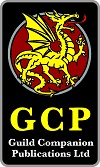 This is our twenty-third Briefing and is the sixth scheduled Briefing for 2013. This Briefing is deliberately late as I wanted to release it when the next wave of products were ready to go on sale. And they are now.


Martial Law


The first supplement to be rereleased for HARP Fantasy, Martial Law has received a series of rules enhancements, many corrections, some additional material, a new layout, and a whole gallery of wonderful new art. In detail, the changes are as follows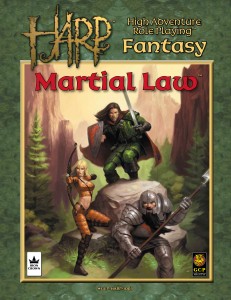 Flying and Influence skills made consistent with both HARP Fantasy and HARP SF
Intuition talent removed, while Swashbuckler and Toughness talents made consistent with both HARP Fantasy and HARP SF
Underwater Combat and Maritime Combat updated to be consistent with HARP SF
Costs for superior and magical materials have been adjusted
Damage Adjustment by Armor is now an optional rule
The sample characters have been updated for consistency with HARP Fantasy
New sample characters have been added for the Cleric, Harper, Mage and Thief professions
As promised, we will be offering Martial Law in pdf at a special price of 5 USD for a strictly time-limited period, so that you can update your HARP collection. Even if you do not own the original 2004 edition of Martial Law, you can still take advantage of this offer. Go straight to this link and buy it right now. Tell your GM, your (fellow) players, and your friends.


We had a trio of independent proofreaders go over the pdf, but some typos may have escaped their eagle eyes. If you should find any errors, please post on our HARP Martial Law threads on the ICE forums as soon as possible as we will be sending it into the OneBookShelf print-on-demand system in the next two to three weeks. We will then release it in both softcover and hardcover formats.


AutoHARP Software


In addition to Martial Law, we now have two software releases to support HARP, namely AutoHARP Fantasy and AutoHARP SF. These software packages combine a character creator and a combat tracker, with the necessary data files to support the HARP Fantasy and HARP SF core rulebooks. Further databases will be released in the near future for HARP SF Xtreme and Martial Law. AutoHARP runs under Windows and will soon be available for most Linux distributions


As a special introductory offer, we will be offering both products at half-price, so 10 USD instead of 20 USD. Again this is a strictly limited offer, so follow the links below.


AutoHARP Fantasy

AutoHARP-SF


College of Magics


And that's not all coming for HARP. A complete layout pdf proof of College of Magics has been delivered and is now being reviewed by me. As soon as I have checked all the enhancements have been made to my satisfaction, the proof will be sent to the independent proofreaders for checking. All being well, we will have College of Magics available in July.


Shadow World Early Editions


All of the collected RMSS stat blocks and suggested corrections for five Shadow World products have been sent to Terry Amthor so that he can incorporate these changes into his new layouts for Emer I, Emer II, Haalkitaine, Jaiman, and Eidolon. As these products will be receiving some art adjustments, it is hard to say which one will be released first.


RMU


If you have been paying attention on the ICE forums, we have requested a pause to the discussion portion of the RMU playtest, so that we can focus on getting the next versions of RMU out for review. Thank you for all the feedback to date as it has been very useful.


We are not pausing the actual playtesting – indeed we would encourage anyone actively playtesting the current beta files to carry on doing so, as actual play may well reveal further insights into strengths and weaknesses of the new rules.


I cannot say yet when the next version of RMU will be released as there is a limit to how fast things can be done when everyone involved (on RMU, at Aurigas/ICE and at GCP) has a day job. But it will come as soon as we can get it out.


Until next time


Completing the review of HARP College of Magics is my next task; the next scheduled Director's Briefing will be in July and will include the special discount for HARP College of Magics.


Best wishes


Nicholas
Director, Guild Companion Publications Ltd.