If you would like to receive the Director's Briefing straight to your inbox each month, you can sign up to our mailing list HERE.


Welcome

To the sixty-ninth Briefing and the second scheduled Briefing of 2017.

I am sneaking this Briefing out during an intermission in the post-semester marking nightmare – my marking is complete but my colleagues will at some arbitrary point descend on me with requests to moderate samples of their marking, but one way or another it will be all over by 10th Feb.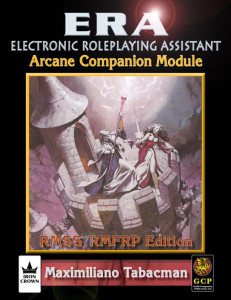 Software

Courtesy of Max, we have another new ERA dataset. Now it is the time of the RMSS Arcane Companion to step into the limelight. The new dataset includes the 4 professions, the 4 attack tables, the 2 critical tables, all 46 spell lists, and a brand new realm with 2 additional spell fumble columns.

This ERA dataset is now available for purchase on the OneBookShelf webstore network.


RMU

Creature Law is becoming tractable. The talents and flaws in Creature Law have been collated and winnowed down from well over six hundred to 280. That is still a lot but given the diversity of creatures covered in Creature Law, it is major progress and creatures can be reconstructed from this more concise foundation.


HARP

John Duffield has beaten the rest of us on the HARP Bestiary team to the punch by finishing his Lycanthrope chapter.

Terry is battling through the HARP Folkways layout and you can blame me for making a "helpful" suggestion that has slowed him down. HARP Folkways introduces various new professions and I thought that they should have their own dedicated page, so one page per profession. Terry implemented this and sent some samples, pointing out that there was considerable white space. I suggested that we could have the professional ability definitions appear in this space – this would avoid folks have to flip between profession and talent sections of the book for new talents introduced in Folkways, and more to the point, avoid the need to flip between Folkways and other HARP books. Now given the physical books, you are all well able to prop multiple books open and do the multibook hop, but is an inconvenience, and I find hopping between multiple ebook versions much more awkward (try following the witty footnotes in a Kindle version of a Discworld novel compared to just glancing at the bottom of the printed page.)

Clint Fell is currently working on a full proposal for a HARP SF vehicles compendium.


Shadow World

Terry is focusing on finishing Haalkitaine in terms of his writing. I will endeavour to keep him
focused.


Until next time

The next scheduled Briefing will be in March 2017

Best wishes,
Nicholas

Director, Iron Crown Enterprises Ltd.


If you would like to receive the Director's Briefing straight to your inbox each month, you can sign up to our mailing list HERE.