SHERLOCK HOLMES 1 – MURDER AT THE DIOGENES CLUB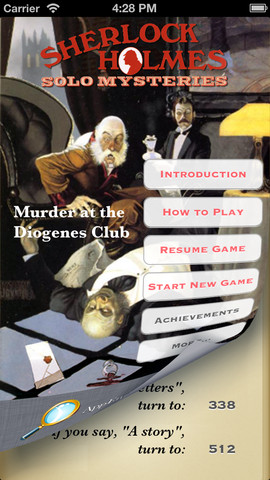 Our friends over at AppEndix LLC are proud to announce the release of:
SHERLOCK HOLMES 1 – MURDER AT THE DIOGENES CLUB
Scandal shakes London's most exclusive men's club as Colonel Philip Sylvester lies murdered in the reading room. Can you uncover the murderer, the motive and the method? Is anyone among the respected but anti-social members a likely suspect? Can you rely upon Sherlock Holmes or his older (and some say "more accomplished") brother Mycroft for assistance?
YOU are the detective in this intriguing first "gamebook" of the SHERLOCK HOLMES SOLO MYSTERIES (TM) series. This gamebook also includes a second, complete mystery adventure, IRISH STAR. Two complete Holmes mystery adventures in one app!
What is a gamebook, you ask? A gamebook is unlike a regular book. In a regular book, you read one chapter after another, from 1 to 2 to 3. In a gamebook, at the end of chapter 1, you have to make a decision (or roll the dice, or both); and your decision and the results of your actions determine what chapter you read on from there. In this way, a gamebook does not present you with just one fixed storyline, but splits into dozens and sometimes hundreds of different outcomes. YOU determine how the story goes on. And no two plays are the same.
GAME FEATURES:
– Dynamically adapting music
– Atmospheric sound effects
– Create your own detective or play the default character
– Fully automated character/clues sheet and your own digital notebook
– Automatically saves and resumes the story where you left off
– All gamebook rules: virtual animated dice, page flip and random number table
– All the original artwork from the printed book in HD
– Game Center Achievements
– VoiceOver compatible (listen to the text!)
– Supports full iPhone 5 screen / iOS 6 compatible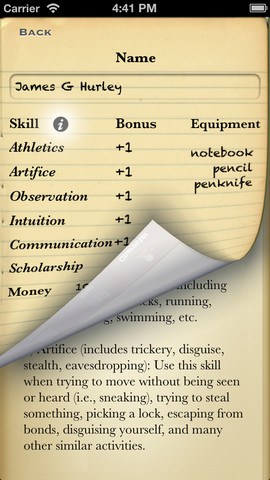 Sherlock Holmes 1 is the first of eight (!) Sherlock Holmes Solo Mysteries gamebooks by Iron Crown Enterprises to be published as interactive apps, including one title which was never available in English before. The app is universal (iPad/iPhone) and multi-language: English, Spanish, French, German, Italian and Brazilian/Portuguese are supported initially.
SHERLOCK HOLMES 1 – MURDER AT THE DIOGENES CLUB is available now on the AppStore for just $0.99! No ads, no unlocking, just pay a buck and own it!
http://itunes.apple.com/app/sherlock-holmes-1/id550319671
Note: This gamebook is an original work. It is NOT the work of Sir Arthur Conan Doyle.