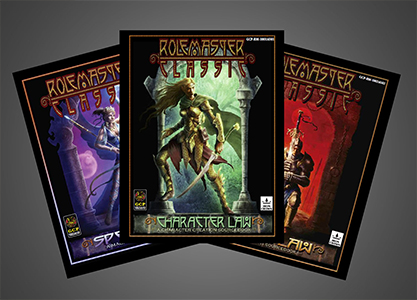 It is with great pride and pleasure that Iron Crown Enterprises can announce that all three core rulebooks for Rolemaster Classic (Character Law, Spell Law and Arms Law) are now electrum pick products on RPGNow!

We're proud of all of our products, but it is always good to see one (let alone three) surpass the bronze and silver pick products to become electrum. A huge thanks to everyone who has bought and supported these products. We couldn't have done it without you.

Rolemaster Classic

Rolemaster offers advanced and expert role players the opportunity to take part in a game filled with gritty realism and exciting open-ended dice roles where the only limit is your imagination.

Character Law pioneered many of today's gaming concepts and still sets the standard for fantasy RPG character creation. Character Law offers you the power to create the character of your dreams, from the toughest fighter to the most powerful spell caster.

Arms Law is about fantasy roleplaying combat – the kind that leaves you shaking and bragging to your friends about your character's exploits. If you prefer safe, ho hum, by-the-numbers RPG combat then Arms Law is not for you. If you are looking for fantasy roleplaying combat that leaves you breathless your quest ends here.

Spell Law is at the heart of the Rolemaster system. Explore new realms of power and plumb the depths of magic without sacrificing playability. Why settle for less when your spellcaster can have it all?

If you haven't yet tried Rolemaster Classic, you can get the core rules along with supplements such as RMC Creature & Treasures, the Electronic Roleplaying Assistant and Emer III and other Shadow World setting material from RPGNow.