It's that time of year again. The time when we are forced to wrack our brains to think of gifts that will show our loved ones just how much they mean to us. With that in mind, we thought we'd help out by giving you a few ideas for things to buy your nearest and dearest this year. While some of our suggestions are (ahem) created by Iron Crown, we've also included a number of items that we just think are cool and are secretly hoping someone will buy for us. So without further ado, here is our gift guide for the tabletop roleplaying game fan in your life: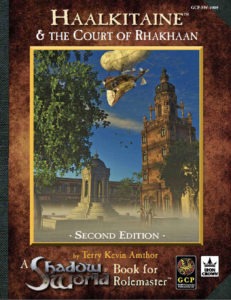 Shadow World: Haalkitaine & The Court of Rhakhaan

The Imperial city of Rhakhaan is teeming with intrigue and adventure, from scandals in the nobility, to criminals roaming the dark alleys, to terrors in the sewers… and most terrifying: a dark conspiracy of evil!

Haalkitaine & The Court of Rhakhaan (Haalkitaine for short) is the latest release from Iron Crown Enterprises and another brilliant addition to the Shadow World setting. You can currently pick it up as a PDF for just $15 and we will very soon be releasing it in hardcover and softcover.

Haalkitaine contains maps, adventures and setting material that can quickly and easily be used with any system or setting (though we recommend Rolemaster and Shadow World).

Buy it now >>

Drivethru RPG gift certificates

If you (or the loved one you're buying for) already has Haalkitaine or you're not sure what they have and haven't got, you can always buy them a gift certificate for DrivethruRPG. All Iron Crown products are available exclusively through Drivethru RPG so there is nowhere better to buy gift certificates for the ICE fan in your life.

Certificates range in size from $5 to $100 and can be used on any Drivethru RPG products (though we recommend you spend it on ICE products).

We have a lot of products in the pipeline that we expect to be released next year, so why not give your loved one a gift certificate with instructions that it be spent on the product that they are most eagerly anticipating.

One of the great things about these certificates is that you don't have to use them in one transaction. It adds money to your account which can then be spent whenever on whatever.

Find out more >>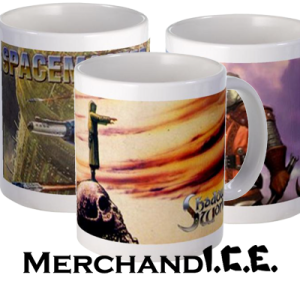 ICE Merchandise

Already own everything that ICE has ever released? Then why not check out our range of ICE merchandise in our CafePress shop. We have a range of items from T-shirts and caps to mugs and glasses. All items feature logos or artwork from your favourite ICE products whether it is Rolemaster, Spacemaster, HARP or HARP-SF. A great gift for the ICE fan that has it all.

Check out the shop >>




Fantasy Grounds licences

Fantasy Grounds is a Virtual Table Top system that allows you to play tabletop RPGs with groups across different locations, time zones and devices. As well as being a great way of bridging the distance between players, Fantasy Grounds will do all the calculations for you including character creation and combat. Buy the Rolemaster ruleset and everything that you need to run a game of Rolemaster will be automatically loaded into the system, saving you even more time.

Find out more >>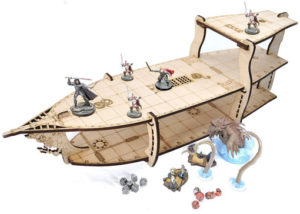 Wooden display boat

Bored of normal hex paper? Having an adventure on the high seas? Then check out this brilliant three level wooden display boat to mark the positions and actions of your adventurers. The instant I saw this item, I wanted it. In addition to this, the creators (CZYY) sell smaller row boats and Viking long ships along with brick walls, taverns and mage's towers (and a lot more). I highly recommend checking out their website: https://www.czyy.me/

Check it out >>

Geeky chef cookbook

Improve the quality of your game night snacks by making genuine lambas bread (Lord of the rings), Butterbeer (Harry Potter) or Lemon cake (Game of Thrones). Over 60 different recipes from fantasy, sci-fi and geek culture all in one place!

Buy it now >>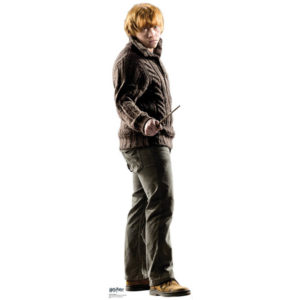 Ron Weasley life size cut out

I think this one explains itself.

Buy it now >>






Thing explainer

I have had the great pleasure of meeting the author of this book (Randall Munroe) and having owned it for over a year now I can highly recommend it (and Mr Munroe's other works). Thing explainer is a brilliantly fun and informative book that explains in simple terms (using brilliantly drawn blueprints) some of the most complicated and interesting parts of modern science, technology and everyday life. It is a great present for anyone who likes learning new things in a fun and interesting way.

Buy it now >>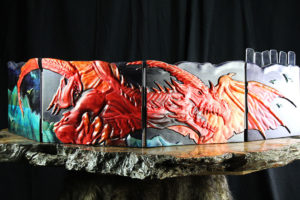 Amazing custom made GM screen

Ok, so these are a little on the expensive side for a GM screen. They are however BEAUTIFUL! The designs are fully customisable and come with a lifetime guarantee. As well as the base screen (which is amazing on its own) you can also add a number of optional extras including a dice tower, shelf, dice rack, pen holder, lights and custom initiative trackers.

The creators of these screens (Dog Might Games) create a wide array of amazing tabletop roleplaying accessories including token holders, boxes and dice rolling areas. I highly recommend taking a look at their website.

Buy it now >>


Please note: We have not been paid or sponsored in any way to promote any of these products. With the exception of the obvious benefits of promoting ICE products and merchandise we're getting nothing in return for this blog. We just did it because we thought you might find it interesting.