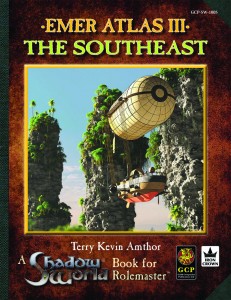 Emer III is out now and available for the introductory price of just $16 from RPGNow (Normal price $18, offer ends 22nd February).

Emer III reveals the mysterious rainforests of Khûm-kaan and the plains of Onar in the Shadow World, the official setting for Rolemaster. It brings the southeast of the continent of Emer to life with intricate details and a collection of stunning maps and imagery.

Get your copy now



Emer III contains:

Two Jerak Ahrenreth Citadels: the Tower of Vour and the Ahrenæk, home of the Artificer A'kesh.
The Lost City of Zæn, including ancient Jinteni magic/technology: weapons, portals and more.
Maps and descriptions of the two 'Isles of Glass,' homes to the Green Dragon and the Seer.
The secret hives of the Krylites.
New maps of the region with dozens of new locations and cultures. New details on the Isle of Jade.
The timeline, updated and advanced several years with new intrigues and wars.
25 pages of adventures and adventure ideas.
Encounter charts for hostile rainforest creatures—and plants! New herbs and creatures.
Stats for both Rolemaster Classic/RM2 and RMSS/RMFRP systems. Also a new Fantasy Weapons Chart.
210 pages total, including an extensive index.