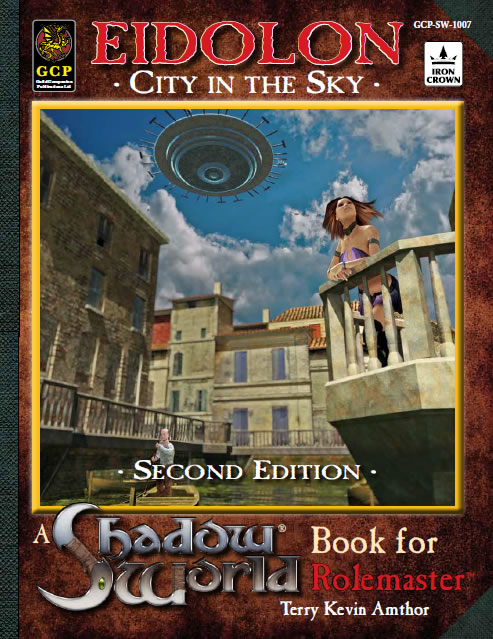 Iron Crown Enterprises are thrilled to announce the publication in pdf of the enhanced version of Eidolon for Shadow World.

Eidolon: City in the Sky

The palace-city of Eidolon floats in the sky above the northern coast of the great continent of Emer. This city is a place of magic and wealth: a beautiful marble, crystal and glass metropolis which is the capital of the powerful economic city-state of Sel-kai. It is also the haven and hub to legendary skyships: vessels which sail the winds.

But there are new dangers to Eidolon and her sister city of Sel-kai below: nearby nations threaten war, and mysterious powers have arisen, coveting the wealth and power of Eidolon.


This second edition sourcebook retains all the great features of the first (which saw it receive a 4-star glowing review in Dragon back in the day) and adds a hundred pages of new fantastic material including:

A complete layout revision with new material added throughout the book. 100 more pages in all!
A timeline advanced several years, including crucial new events.
Many new Adventures, set in Sel-kai & Eidolon.
New skyship and watercraft info, including ship plans.
New details about the inner workings of Eidolon and Sel-kai: society, celebrities, and scandals!
NPC stats for RM2/Classic and RMSS/RMFRP.
Dual-statted for Rolemaster Classic and RMSS/FRP, Eidolon: City in the Sky has everything you need for you next adventure in Shadow World.

Until the end of October the pdf of Eidolon will be available at the special introductory offer price of $10. To take advantage of this discount, please use the following link:

Buy Eidolon: City in the Sky for just $10 >>

We are now working towards making Eidolon available in softcover and hardcover editions in November and will have copies available for sale at the Dragonmeet convention in December.