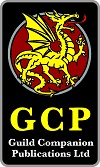 This is our twenty-second Briefing and is the fifth scheduled Briefing for 2013.
Shadow World: The Cloudlords of Tanara
Cloudlords of Tanara is back and is better than ever, combining material from the classic era and the current Kulthean timeframe, and includes RM2/Classic and RMSS/FRP stats. Available in pdf from the OneBookShelf ecommerce network (see RPGNow and also www.drivethrurpg.com ), it will also be available in standard colour softcover and hardcover. Indeed as I write this, the first hardbound copy has arrived with Terry and he's indicated happiness with how it has turned out.
Shadow World: And More Early Editions
In last month's Briefing, I indicated that the creation of RMSS stat blocks for the Early Editions was well underway. It is now almost complete – I have reviewed and approved the stat blocks for Emer 2, Eidolon, Haalkitaine, and Jaiman. The Emer I RMSS stat block is just awaiting some final material. These products need some replacement artwork and some new maps, so they will not instantly reappear, but while the artists and cartographers do their stuff, the next products to be released will be for:
HARP Fantasy
All the corrections have been made to the layout of HARP Fantasy and we've fixed the errata that eagle-eyed fans spotted. So if you have bought HARP Fantasy, please go immediately to www.rpgnow.com (or www.drivethrurpg.com or whichever OneBookShelf affiliate you bought it from) and download the updated version.
And that's not all, the print-on-demand masters have been sent to OneBookShelf / Lightning Source and are now progressing through the system. At some point in the next couple of weeks, I will receive the proof copies and assuming no problems, we will be releasing HARP Fantasy in black&white softcover and hardcover formats.
And there's more, layout has now commenced on HARP Martial Law with HARP College of Magics queued behind it. I hope that we will be able to release HARP Martial Law either at the end of May or the start of June, with HARP College of Magics a month later. You will remember that we ran a one-month special offer on HARP Fantasy in order to provide all HARP fans an opportunity to upgrade to the enhanced version. We are going to run special offers for both HARP Martial Law and HARP College of Magics – these will be time-limited again, so pay attention to the forums, our Facebook pages and the newsletters as Colin will be getting the word out, and you don't want to miss these offers.
The Printing Survey
And speaking of Colin and of printing, many thanks to everyone who completed the print survey. Reading through the comments, there are a few misunderstandings that need to be cleared up as they may be preventing some of our fans from getting their hands on print copies.
1. One respondent indicated that he/she used DriveThru as a reason for not buying print-on-demand books from RPGNow. RPGNow.com and DriveThruRPG are the same company, merely different storefronts, so anything available on one site is available on the other, and in particular all our products are available on both.
2. One respondent was worried about being in the UK and whether the books could be shipped to the UK. OneBookShelf's printing partner, LightningSource, uses two manufacturing plants for products printed through the programme. One of these is based in the USA, the other is based in the UK! So I get my proof copies made by the UK plant and delivered by Royal Mail.
3. One respondent was worried about how long it would take to get copies, and that it might take as long as four weeks. It takes two to five working days for the book to be printed; thereafter the shipping depends on how far it has to travel to reach you and how much you are prepared to pay for the shipping. Virtually all non-US customers get their books printed in the UK because it is easier in terms of customs and duties than coming from the USA plant – in particular customers in Canada normally get their books from the UK which is why shipping seems high for them.
Of course ordering a book over the internet lacks the immediacy of being able to walk into a store, make a purchase and walk away with the product in your hand. However, many of our customers no longer have the luxury of a friendly local games store, so print-on-demand really is ideal in that instance. It also has the advantage that once we make a book available via print-on-demand, it need never go out-of-print. A fan wants to buy a physical book, they pay their money, Lightning Source prints a copy of the book and ships it, and the postman delivers it. It is that simple. From GCP's perspective, it means we don't have to invest in warehousing, lock up capital in inventory which may or may not ever sell in a sensible timeframe (Aurigas still has unsold copies of Old ICE books published in the 1990s), or handle the logistics of shipping and handling (i.e. the company and you are not relying on my ability to package books or get to a post office).
With regard to the quality of the print-on-demand books, I'm certainly happy with them and I know that GCP freelancers and Aurigas staff who've received copies have been equally happy. Buy one and see for yourself.
Until next time
Rolemaster, Cyradon, HARP Bestiary and more projects are clamouring for my attention; the next scheduled Director's Briefing will be in June, but keep watching for HARP Fantasy going to print and HARP Martial Law coming to pdf and the special discount offer for it.
Best wishes,
Nicholas
Director, Guild Companion Publications Ltd.