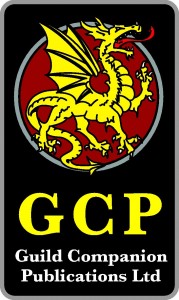 Happy New Year to everyone. This is our thirty-first Briefing and is the first scheduled Briefing for 2014.

I am back from an extended holiday overseas and am catching up on email and GCP projects, and am feeling refreshed from my break from the demands of students and reinvigorated by having seen the second instalment of The Hobbit (which I thought was excellent fun despite veering further from the book) and catching up on my science fiction by completing Jack McDevitt's six "Alex Benedict" novels and Linda Nagata's Nanotech Succession (Tech Heaven, Bohr Maker, Deception Well, and Vast). For those interested in sf, the Benedict novels are mysteries set in a future 10,000 years from now and the adventures of the protagonists could readily be mapped to a sf game; the Nanotech books are more transhuman than dystopian cyberpunk; both could form the basis for sf gaming. My Kindle continues to prove its value in keeping my reading up but the luggage weight down!

A retrospective of 2013

As in January 2012 and 2013, we will begin this Briefing with a look back at the achievements of the previous year. As with 2012, 2013 deviated from our plan, yet despite those deviations, it was a good year for GCP in terms of releases, expected and unexpected. Indeed, we were frequently in the top 15 publishers on RPGNow and across all OneBookShelf sites, we were in the top 2-3% of publishers by sales over the year.

In rebranding, we finished off the residual products, returning all of the RMQs and Channeling Companion to sale.

In Shadow World, Cloudlords of Tanara received an update and new material from Terry Amthor, and was released in pdf and print. Emer 3 evaded publication in 2013 but a final version is now with me for checking before release. Two third-party Shadow World sourcebooks have been approved to proceed and a formal call for Shadow World adventures issued.

In HARP, we released the enhanced HARP Fantasy in softcover and hardcover formats and this was followed by the enhanced versions of HARP Martial Law and HARP College of Magics in pdf, softcover print and hardcover print. The enhanced release of Loot: a Field Guide and the new HARP Bestiary remain incomplete, due to the incredibly high demands on my time from my new real-world job which has forestalled me from doing the writing of my contributions to both. Cyradon has similarly been delayed from its enhanced release but behind the scenes authors continue to build a dazzling array of great adventures for it.

The unexpected surprise of 2013 was the advent of commercial-grade computer software support for character creation and combat tracking, heralded by the quintet of AutoHARP releases covering all five HARP Fantasy and SF releases. As 2013 came to a close, the Rolemaster Combat Minion package, which promises to deliver Rolemaster combat management and tracking on an unprecedented scale and quality, was being readied for release.

In unified Rolemaster, beta discussions and playtesting of new Arms Law, Character Law, and Spell Law continued apace, while the RMU team slaved away on revisions to the material and on Treasure Law and Creature Law betas.

Looking ahead to 2014

What I expect to happen is that we will have an early flurry of product releases, my real-world job will quickly encroach on all my available time (4 modules to teach this upcoming semester of which two must be built plus assorted PhDs and dissertation students) until the end of June, and then a normal work balance should take effect for me and we should have regular releases thereafter including those products requiring me to write some or all of them. Release schedules during the encroachment period will be heavily dependent on others getting on with work as I will be time-slicing my efforts into contractual necessities, project phase organisation, and review.

In terms of early releases, the Rolemaster Combat Minion application will probably be the first release, kicking off with the Rolemaster Classic dataset (as that is the original version by David Webster) and assuming no deployment issues to be swiftly followed by the RMSS/FRP dataset.

Emer 3 will be the first non-software product release. The order of subsequent enhanced Shadow World products will then depend on Terry. The sourcebooks being written by freelancers are not yet on contractual deadlines.

RMU will enter second beta release with a combined Arms Law and Character Law book and Spell Law leading the way and Treasure Law and Creature Law leapfrogging to second beta.

All of the necessary art for TGA#4 is now in hand at screen resolution quality, so we can finally get this product to release.

Work on HARP Loot, HARP Bestiary, and HARP Folkways will continue as will work on the Cyradon line. A realistic assessment suggests that these products will require me to escape the encroachment period before they complete but we may be more fortunate.

As always, I will be keeping you updated in the monthly Briefings.

Until next time

Emer 3 awaits my final review so that is my next task. The next scheduled Director's Briefing will be in February.

Best wishes,
Nicholas

Director, Guild Companion Publications Ltd.


If you would like to receive the Director's Briefing straight to your inbox each month, you can sign up to our mailing list HERE.