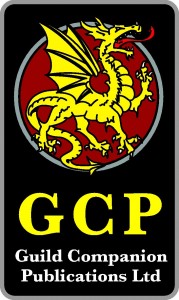 If you would like to receive the Director's Briefing straight to your inbox each month, you can sign up to our mailing list HERE.


Welcome

To the sixty-seventh Briefing and the twelfth scheduled Briefing of 2016.

Dragonmeet 2016

John, Colin, Chris and myself attended Dragonmeet with all of us manning the stand at various points of the day. Due to an unfortunate mixup, Chris did not get a designated table for his game early enough to recruit sufficient players in time to make his scenario viable. Despite this glitch, we had some very interesting conversations with fans and (potential) freelancers, and we sold a reasonable number of books, and three lucky fans won prizes in our stand raffle.

Looking forward to next year, we hope to have some appropriate banners made so that we can give our stand greater impact. We also want to see more ICE gaming scenarios being run.

HARP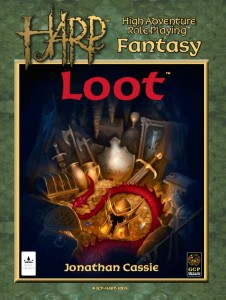 HARP Loot went on sale last month; the master proof copies of both softcover and hardcover arrived in time for me to sanction a short batch which we received in time for Dragonmeet. You can now purchase HARP Loot in pdf, softcover and hardcover from OneBookShelf. There is a 5 USD discount available for bundle purchases of pdf and softcover/hardcover.

Terry is in the last few pages of the layout of HARP Folkways. I will then need to check that all is well with it. My expectation is that we will make HARP Folkways the first product launch of 2017.



ERA for Rolemaster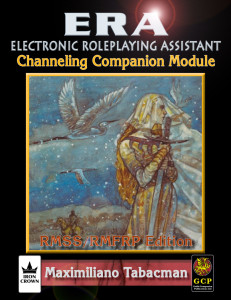 Max has completed another ERA dataset. This time, he brings you RMSS Channeling Companion. This adds all the professions, spell lists, talents and critical tables from the Companion

You can purchase the dataset from OneBookShelf directly via THIS LINK.

Max continues to make improvements to the baseline packages. If you have already downloaded the base ERA packages, and you have registered to receive emails from publishers on the OneBookShelf network, then you may already have received emails indicating that files have been updated. Please download at your convenience.

More on HARP, Shadow World, and RMU

Colin, John Duffield and I are all trying to get our respective portions of HARP Bestiary completed, and being variously derailed.

Terry is in at least three places at once – Emer I, Emer II, and Haalkitaine. (When he's not laying out tables for HARP Folkways, that is).

The full draft of Garden of Rain, a new Rolemaster/HARP module from Brad White, has arrived and is on my editorial intray.

Chris Seal has sent in substantial chunks of Caer Glais, a new module to be set in the world of Mithra (but not in Anias or Cyradon), so that is jostling for attention in the editorial intray.

In a pause for air, Jonathan Dale did a consistency sweep of RMU Spell Law (to check the amendments from Graham Bottley) against the current version of RMU Arms and Character Law. He's now returned to RMU Creature Law.

Until next time

All that remains for me to do is wish you all a very Merry Christmas (or other holiday of your choosing) and a Happy New Year. The next scheduled Briefing will be in January 2017.

Best wishes,
Nicholas

Director, Guild Companion Publications Ltd.


If you would like to receive the Director's Briefing straight to your inbox each month, you can sign up to our mailing list HERE.