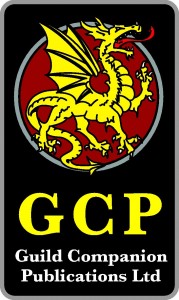 Welcome to the forty-second Briefing and the twelfth scheduled Briefing for 2014. Christmas and the holiday season are nearly upon us, and the final instalment of The Hobbit movies in the form of "The Battle of the Five Armies" will soon be in cinemas everywhere. I look forward to seeing Peter Jackson's audiovisual spectacular – I am sure that the tale has once more grown in the telling.

Dragonmeet

Our own ICE/GCP fellowship gathered at Dragonmeet on the 6th December. This turned out to be the largest Dragonmeet ever at over 1600 attendees. Chris Seal ran a successful Rolemaster scenario, while Colin, John and myself were on hand at the GCP/ICE table to chat with attendees, invite them to enter our raffle, and to sell product (in terms of print copies of HARP/HARP SF and Shadow World). Many people had fond memories of playing MERP, Rolemaster, Spacemaster and more, and were pleased to see that the games are still alive and resurging. With ICE listed in 10,000 Dragonmeet flyers and a full-page advertisement in the programme book, the word will continue to spread.





So our first-ever Dragonmeet as traders was a success. We are compiling our lessons learned list so that our next Dragonmeet will be even better. The experience gained will also feed into how ICE / GCP can make a success of GenCon or Origins in the future. Yes, ICE / GCP does plan on being at future GenCons and/or Origins, but the earliest this can be is 2016.

The waiting game

One of the downsides of being a small publisher is that everything depends on freelancers – writing, artwork, maps, editing and layout. Even as far back as the original 1980s and 1990s incarnation of ICE, freelancers were contributing significantly across multiple gaming lines. The problem is that all freelancers are at the mercy of events in their lives and we're enduring a thoroughly awful and prolonged period where multiple freelancers are taking hits. The related problem is that creative tasks do not readily allow for swapping people in and out of projects – two artists given the same topic will draw very different illustrations, writers cannot easily carry on where someone else has left off, and so forth. The software industry has had its mythical man-month issue crystallised for decades. Nevertheless on several projects, we are moving into the position where Plan B actions must shortly be executed.

HARP Folkways

HARP Folkways has, however, proven itself to be exceptional. Jon Cassie has delivered a full draft of his manuscript for this brand-new sourcebook, and I have begun my editing sweep. Once I have completed this sweep, I will be soliciting artwork while Jon makes any amendments and additions that I feel are required.

Until next time

The next scheduled Briefing will be in January 2015, so all that remains for me to do is to wish you all a Merry Christmas (or other holiday of your choosing) and a Happy New Year.

Best wishes,
Nicholas

Director, Guild Companion Publications Ltd.


If you would like to receive the Director's Briefing straight to your inbox each month, you can sign up to our mailing list HERE.