If you would like to receive the Director's Briefing straight to your inbox each month, you can sign up to our mailing list HERE.


Welcome

To the seventy-fifth Briefing and the eighth scheduled Briefing of 2017.


ICE at GenCon 2017

GenCon is only days away. Eight large boxes of HARP and Shadow World books have safely made it to the Pointy Hat Games gathering point and will be on the road soon to GenCon. Various packs of flyers and bookmarks and assorted odds and ends have also arrived. Colin is geared up to support with some transatlantic marketing. Our representatives (Aaron, Monte, and Mark) are ready to man the stand and our GM reps have tables booked, and we wish them all every success.


ICE at Dragonmeet 2017

The call to traders to book stands went up mid-month. I had our stand and our trade badges booked that very same day.

Dragonmeet will be Saturday 2nd December. This year, they have added a new hall, increasing the gaming, seminar and demo space considerably.. Tickets are now available from www.dragonmeet.co.uk


Shadow World

The time window for Terry to get Jaiman complete for a last-minute print run for GenCon has already closed. Which is a shame, but looking on the bright side, I will have a less madcap editing phase, which means fewer typos in the pdf and the ability to release the pdf well ahead of the print books (so hopefully even fewer typos in print).


HARP, HARP SF and Adventure Modules

The adventure module, "A Wedding in Axebridge", is now ready for its layout phase – again too close for GenCon safety. A real cover by Raymond (rather than giving the game away with a location map on the front cover as in the previous edition), new interior artwork by Raymond and Maria, and refreshed maps and layouts by Joel. I completed the stat block update to be consistent with HARP Fantasy. Once Terry completes his writing work on Jaiman, I will edit Jaiman while he does layout on A Wedding in Axebridge.

I am now embarked on my editing pass of the full draft of Brad White's Garden of Rain adventure module.


Rolemaster

Nothing new to report from Jonathan and Joeri from the RMU Creature Law trenches


Computer Software Projects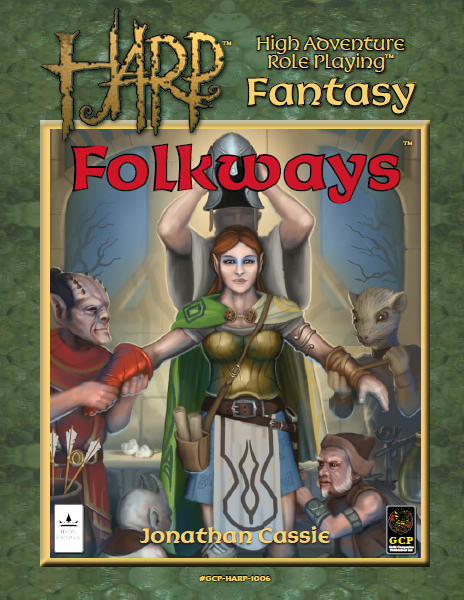 We are very pleased to announce the release of the latest AutoHARP dataset, namely AutoHARP Folkways. This has all the new races and cultures from HARP Folkways plus a random culture generator based on the tables found in that volume.

AutoHARP Folkways is available now from OneBookShelf.

You will note that this dataset has been priced at 7 USD. We have listened to customer feedback and we have repriced all of the AutoHARP products. In addition, we are now offering two bundle products – an SF bundle containing AutoHARP SF and AutoHARP SF Xtreme, and an AutoHARP Fantasy Supplements bundle containing the Martial Law, College of Magics and Folkways datasets.

Similarly we have held discussions with Max regarding ERA and we are now very pleased to offer three bundle deals for ERA – a RM Classic core dataset deal of Arms Law, Character Law, Spell Law and RMC Creatures, a RMFRP core dataset deal of Core and Character Law, Arms Law, Spell Law and RMFRP Creatures, and a RMFRP Companion dataset deal of Arcane, Channeling, Essence, and Mentalism Companion datasets. Each of these bundles is priced at 20 USD, so an effective saving of almost 20 USD compared to purchasing each dataset of the bundle individually.

The validation event for the new MSc Computer Games Development degree at the University of Suffolk took place today (1st August). I essentially invited myself – there have to be some perks to being a professor! – but made it clear that I was attending on behalf of ICE.

The degree was successfully validated. Some modest conditions for the course team, but nothing that they cannot handle trivially.

One of the course team has already been in discussion with me regarding possible projects, including a possible project that he could undertake himself as a way of encouraging students to engage with us. We look forward to setting the students some significant challenges which will hopefully lead to some great computer games and apps.


Until next time

For those of you fortunate to be attending GenCon, have a great time.

For me, it is back to a mix of writing Something Wicked and editing manuscripts. The next scheduled Briefing will be in September 2017.

Best wishes,
Nicholas

Director, Iron Crown Enterprises Ltd


If you would like to receive the Director's Briefing straight to your inbox each month, you can sign up to our mailing list HERE.