If you would like to receive the Director's Briefing straight to your inbox each month, you can sign up to our mailing list HERE.


Welcome

To the seventy-first Briefing and the fourth scheduled Briefing of 2017. Much news and two more software datasets to announce.


ICE at GenCon 2017

ICE will be present at GenCon 50. I will say that again, ICE will be at GenCon 50 in Indianapolis in August.

We (*) will be sharing a booth with Pointy Hat Games, one of whose principals is Aaron Smalley , who has freelanced for us in the past (City of Archendurn, Dun Cru), is working on a project for us at the moment (No Quarter under the Crown), and is frequently on the ICE forums. Pointy Hat Games will be taking point for us on the ground at the convention. Colin will be masterminding various parts of the logistics and support.

Some of you will already have been contacted by Colin regarding GenCon. We are looking for volunteers to help with booth staffing and to run games. There will be prize support for GMs and players. Expect lots of news from Colin about GenCon and preparations from now onwards.

(*) is the corporate "we". Unfortunately GenCon 50 is sufficiently late in August that it clashes with university clearing in the UK. I am expected to be available to make decisions on whether prospective students who did not apply to the University of Suffolk originally should be offered a place on our degree programmes. Hopefully I will get to GenCon 2018.


HARP

One of our customers reported that the HARP Fantasy printed book that he had just received did not match his pdf version and seemed to have errors in it that were not in the pdf. As a precautionary measure, I made the print-on-demand versions temporarily unavailable. A careful investigation revealed that the customer had not refreshed his pdf version and so was looking at an old pdf. Downloading the current version of the pdf from OneBookShelf ensured that pdf and print copy now matched. I have collated all the errata from the forum thread and asked Terry if he can gently adjust the pdf to fix these and we will update the pdf and the print masters.

Please Note: None of the changes are significant. It is essentially a handful of numbers in the monsters chapter and a category heading in the master skill table. So if you already own a printed softcover or hardcover of HARP Fantasy, you do not need to buy another copy. (Unless you actually need another copy.)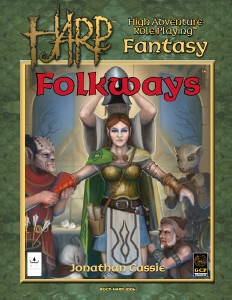 We released HARP Folkways last month as a pdf and the first wholly new fantasy sourcebook for HARP Fantasy. Many of you have already purchased the pdf edition (thank you), and some of you kindly spotted a handful of errors which escaped my editorial eye. We have corrected those errors and I have written and added several pages of new material providing height, weight, age and Blood Talents for all the new races as well as extracting more of the racial talents so that they are priced and purchasable by other characters. The pdf has been updated (so please download the new version if you were an early adopter) and will remain available at the discount price until the 11th April (so don't delay). Terry has worked his magic and the print masters have already been submitted to and approved by OneBookShelf. Once both Terry and I receive our respective proof copies and declare our happiness, we will put the print editions on sale.

Buy HARP Folkways now >>

On HARP Bestiary, I have been toiling away on writing up the stat blocks for the Elementals chapter. There are six "groupings" of Elementals in the chapter – Servitors, Steeds, Destriers, Hunters, Savants and Warriors. However there are four Elements, so you might think that makes for twenty-four stat blocks. Incorrect. There are actually 72 stat blocks required as the Hunters, Savants and Warriors have five Classes of might for each element, so 4 (Servitors) + 4 (Steeds) + 4 (Destriers) + 20 (5×4 Hunters) + 20 (5×4 Savants) + 20 (5×4 Warriors) = 72. The only sane way of creating this many stat blocks is to employ the industrial process of an assembly line. Hence I constructed the skeletons for all 72 first, then populated it with treasure code, outlook, skills ranks and talents. I am currently working on the spell choices for all the Savants. Once that's done, I will calculate skill bonuses, and transcribe the needful items such as RRs and so forth into the summary blocks, and then calculate the BMR for them all. At that point, all 72 stat blocks are complete and the only thing remaining for the chapter is the two master summary tables. I also took the executive decision in February that as John Duffield had completed his chapters ahead of me, it was only appropriate to reward him by letting him stat up the Demons. The serious reason is that I need to be off the critical writing path for Bestiary as soon as possible as there is a backlog of editing to be done and I need to be revising Something Wicked and organising other projects.


Rolemaster

John and I are not the only folk crunching numbers. Jonathan and Joeri are crunching a lot more numbers. Final tweaks are being made to talent costs (3 DPs for +5 resistance talents was cited) and to some racial stats. The spreadsheets will then be taking a pummeling as the creatures (and there's a lot more of them than six or seventy-two!) are recreated.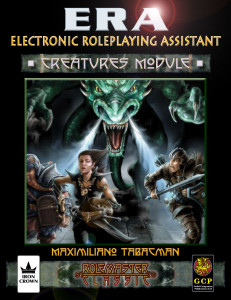 ERA for Rolemaster

Everyone seems to be working on monsters. Max has been toiling away on two new datasets for ERA. These are RMC Creatures which has 451 creature templates from the creatures portion of RMC Creatures & Treasures, and RMFRP Creatures which has 778 creature templates extracted from RMFRP Creatures & Monsters.

Both datasets are now available from OneBookShelf at the following links: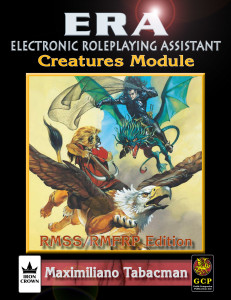 Buy ERA for Rolemaster RMC Creatures >>

Buy ERA for Rolemaster RMFRP Creatures >>

You will need to update the core ERA package and if you have purchased any of the Rolemaster Companion I, RMFRP Arcane Companion and/or Shadow World datasets, then you need to download the updates for these as well.




Shadow World

Terry is reporting good progress on the new enhanced edition of Haalkitaine.


Until next time

I am going to do more elemental stat work and see if I can get this finally finished. Expect lots of news from Colin on GenCon in his newsletter. The next scheduled Briefing will be in May 2017.

Best wishes,
Nicholas

Director, Iron Crown Enterprises Ltd.


If you would like to receive the Director's Briefing straight to your inbox each month, you can sign up to our mailing list HERE.