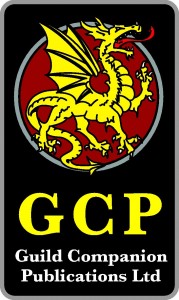 Welcome to the forty-sixth Briefing and the fourth scheduled Briefing for 2015. As a historical note, Terry Amthor reminded me that on this day (April 1st) thirty-five years ago that at a meeting in a Mexican restaurant in Charlottesville the original ICE was founded. It seems only fitting that we celebrate that anniversary with a new product launch!


Tales from the Green Gryphon Inn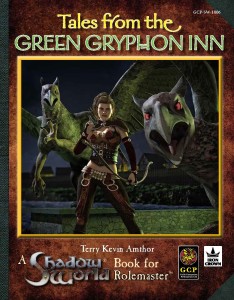 This is the long-awaited Shadow World adventure module by Terry Amthor. Set in the heart of northern Rhakhaan on the continent of Jaiman, the Green Gryphon Inn is a welcome rest for travellers upon the highways and byways, vying with the enchanted bridge of Gryphonburgh for most notable location in the area. Gryphonburgh is beset with dangers and intrigues that may reward adventurers who tarry with opportunities to gain fortune and defeat hidden evils or doom them to an early grave.

Replete with nine full adventures, maps, NPC and monster stats (RMClassic and RMSS/FRP), and more, this brand-new Shadow World adventure module is now available in pdf and is available to buy at www.rpgnow.com and other OneBookShelf sites. The normal price is $9.99 USD but if you use this link you can buy it at $7.99 USD. This special discount expires on 30th April, so don't delay.

Buy Tales from the Green Gryphon Inn Now >>

More Shadow World

Terry is finishing up the draft manuscript for the updated version of Eidolon and I expect to receive that shortly for my editing pass.

An old copy of Norek has been scanned and Kevin Casey, the original author, is now busy correcting the OCR'ed text and deep in reflection on how he would like to enhance this module for its revival.

Rolemaster

I spent a large chunk of last month editing my way through the monster that is RMU Creature Law. Joeri has completed his final corrections and that is now ready to add to Terry's layout agenda.

I am expecting to receive the completed RMU Treasure Law manuscript from Dan at the end of this month and I will switch gear to edit that as soon as it arrives.

Terry has been making slow progress with the layout on RMU Arms & Character Law and RMU Spell Law. The InDesign files are unnecessarily large (this appears to be a common issue with InDesign, it's not the content size), meaning InDesign becomes slow and cantankerous. We're seeking ways of slimming down the files.

HARP and HARP SF

In HARP Bestiary, one of the team has had to bail for personal reasons. However Colin has nobly volunteered to take on the Water Monsters chapter and John Duffield has equally nobly accepted the Lycanthropes chapter. John has also sent me revised drafts of his Land and Air Monsters, and is currently working on more draconic creatures. I have been busy too, and now have completed my drafts of the Lich, Wight, Wraith and Vampire overlays (joining the already completed Ghost, Ghoul, Mummy, Skeleton, Skeleton Lord, Spectre and Zombie overlays). Yes, I know it's the Earth Elementals that are still the missing piece to complete Guild Adventurer #4 but I am timesliced by so many projects that maintaining quality means I will write up Undead until I have finished all the Undead. (Even the interruption of writing this Briefing means I will have to think and read my way back into writing the next Undead overlay). Then it's Elemental time and then I will finish the updates for TGA#4.

Further progress on HARP Folkways with Jon producing some additional races in his latest draft. I expect only a brief editing pass will be needed.

Joel Lovell is quietly working on his HARP SF adventure module, The Poseidon Gambit, emerging only occasionally to seek clarifications on rules and Tintamar setting issues.

Until next time

I have more Undead overlays to write and lots of editing on drafts of many products in progress. The next scheduled Briefing will be in May 2015.

Best wishes,
Nicholas

Director, Guild Companion Publications Ltd.


If you would like to receive the Director's Briefing straight to your inbox each month, you can sign up to our mailing list HERE.