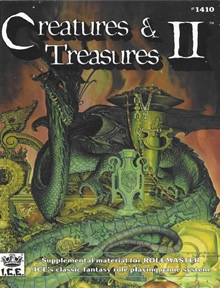 Here at Iron Crown Enterprises we're really pleased with the longevity of our games and the fact that even our older products continue to be a popular choice. This is why we're so happy when an older product reaches new heights of popularity. We're so excited to announce that Creatures and Treasures II is now a silver pick product on RPGNow!

A huge thanks to everyone who has bought and supported this product and of course to everyone involved in its creation.

Buy Creatures and Treasures II >>

Creatures and Treasures II

Creatures & Treasures II is a Rolemaster bestiary offering complete descriptions and game stats for hundreds of fantasy beasts, including Composite Monsters, Artificial Beings, and Entities from Deep Space! Also included are revised and reformatted guidelines for generating random treasure hoards, along with a huge listing of Modest, Potent, Most Potent and Artifact magic items. There are also a number of random encounter charts specifically designed for the monsters found in this volume.

Creatures & Treasures II, in the tradition of the immensely popular original C&T, is an invaluable supplement offering information and stats for the three key elements of fantasy role-playing: creatures, treasures and encounters. Although designed for use with the Rolemaster system, it is easily adaptable to most other role playing systems.

As a bonus, this book provides a section on incorporating magic items into adventure narrative – a great aid for most GMs!

Creatures & Treasures II includes:

Game statistics, descriptions, and illustrations for a wide variety of fantasy animals and beasts.
Tables for generating random treasures and encounters.
Descriptions for a multitude of magic items.

Publisher's Note: This product was created from image scans and its quality is therefore imperfect. It is a searchable pdf


Buy Creatures and Treasures II >>